About
We teach self defense, MMA, kid's karate, & functional fitness. Contact us for a 50% discount on your introductory lesson.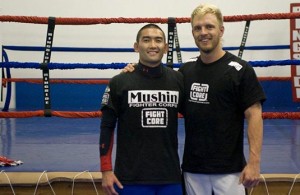 We are Mixed Martial Arts coaches Brian Yamasaki and Brandon Kiser.
Throughout our career we've trained many students and fighters. We've cornered over 100 fights from local amateur MMA events and grappling tournaments, to big professional promotions including Bodog, IFC, and UFC.
We are constantly developing our abilities as MMA coaches, traveling and learning from some of the top instructors in the world.
We love sharing our passion for Mixed Martial Arts.  In addition to our wonderful students that we teach in our gym, we also have hundred of students from around the world that subscribe to our online MMA training academy.
Our YouTube MMA channel also has around 15,000 subscribers and 4.5 million video views.
If you have any questions about our gym, please call us at (801) 296-0734 or leave us a message on our contact form.  We'd love to hear from you.